METHYL SALICYLATE
Methyl Salicylate (INCI name: methyl 2-hydroxybenzoate) is the ester of methyl alcohol and salicylic acid. According to different studies, Salicylic acid is the main metabolic product of Methyl Salicylate by hydrolysis.
In cosmetics and personal care products, Methyl Salicylate is used as a denaturant, flavouring, oral care, perfuming and soothing agent. It is used as an ingredient in several fragrance mixture and as a flavouring and soothing agent in oral hygiene products. Methyl Salicylate is not currently included in the annexes of the European Cosmetics Regulation (No. 1223/2009), which means its use is not restricted in cosmetic products.
In 2019, the European Risk Assessment Committee (RAC) of the European Chemicals Agency (ECHA) issued an opinion on Methyl Salicylate, recommending a classification as "Toxic for Reproduction Category 2" and "Skin sensitizer Category 1B" for this ingredient, based on a read across with data available on Salicylic Acid. Following the RAC opinion, an amendment to Annex VI of the CLP Regulation (Regulation (EC) 1272/2008 on classification labelling and packaging of chemical substances and mixtures) is expected.
According to the EU Cosmetics Regulation, the use of substances classified as CMR (carcinogenic, mutagenic or toxic for reproduction) shall be prohibited in cosmetic products, unless, by way of exception, specific conditions are fulfilled. A CMR classified in category 2 may be used in cosmetic products where the substance has been evaluated by the European Commission's Scientific Committee on Consumer Safety (SCCS) and found safe for use in cosmetic products.
Considering the RAC opinion and the expected classification of Methyl Salicylate as a "Toxic for Reproduction Category 2", a dossier was submitted by Cosmetics Europe to support the safety of Methyl Salicylate. The Commission asked the SCCS to carry out a safety assessment on Methyl Salicylate, taking into account the dossier submitted and also the maximum concentration of this ingredient used in the different categories of cosmetic products.
SCCS FINAL OPINION ON METHYL SALICYLATE
Last month, the SCCS has issued its final opinion on Methyl Salicylate. This ingredient should be regarded as a weak skin sensitizer (in humans) and eye irritant. The Committee concluded that Methyl Salicylate is considered safe when used in cosmetics up to the maximum concentration provided in the dossier submitted (presented in the table below).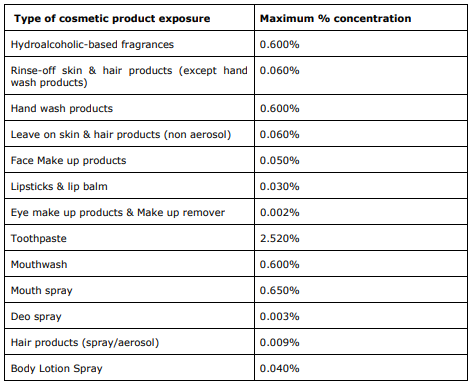 The SCCS also expressed some concerns regarding the use of this ingredient in cosmetics and personal care products. As Methyl Salicylate can be used in consumer products other than cosmetics (e.g., household cleaning products, air care products, biocides, polishes, waxes, etc.), it can increase the systemic exposure dose with a possibility to exceed the safe level. Additionally, Methyl Salicylate is metabolized in the body to Salicylic Acid (also classified as a reprotoxicant, used in cosmetics, found safe under the conditions stated in the Opinion SCCS/1601/18), and therefore, the combined exposure to cosmetic products containing various salicylates may increase the systemic exposure dose with a possibility to exceed the safe level.
As wintergreen oil may contain up to 99% Methyl Salicylate, the calculation of Methyl Salicylate content in a cosmetic must consider any fraction coming from wintergreen oil.
If you wish to get more information on the safety of cosmetic ingredients, feel free to contact us at info@criticalcatalyst.com.
References:
Regulation (EC) No 1223/2009 of the European Parliament and of the Council of 30 November 2009 on cosmetic products.
Scientific Committee on Consumer Safety (SCCS). Opinion on Methyl salicylate (methyl 2-hydroxybenzoate). SCCS/1633/21. 2021
Scientific Committee on Consumer Safety (SCCS). Opinion on Salicylic acid (CAS 69-72-7). Submission I. SCCS/1601/18. 2019