BACKGROUND
Salicylic Acid, a beta hydroxy acid, is used in cosmetics and personal care products as antidandruff, hair conditioning, keratolytic, masking, preservative and skin conditioning agent.
Currently, Salicylic Acid is regulated under Annex III (list of restricted ingredients) and Annex V (list of allowed preservatives) to EU Cosmetics Regulation (EC) No. 1223/2009, with specific maximum concentrations and use conditions.
WHAT'S NEW?
In view of Salicylic Acid's endocrine disrupting properties, the European Commission mandated SCCS to carry out a safety assessment for this substance in view of the information provided by stakeholders, taking into account the maximum concentration and relevant provisions for different categories of cosmetic products listed in Annex III and V to the EU Cosmetics Regulation, as well as the intention of the industry to use Salicylic acid in oral products as well.
In consideration of all available information, including the potential endocrine effects, SCCS concludes the safe use requirements for Salicylic Acid in cosmetic products (see conditions on the table below).
Compared to the restrictions laid out in the EU Cosmetics Regulation, the SCCS opinion allows the use of Salicylic Acid in oral products.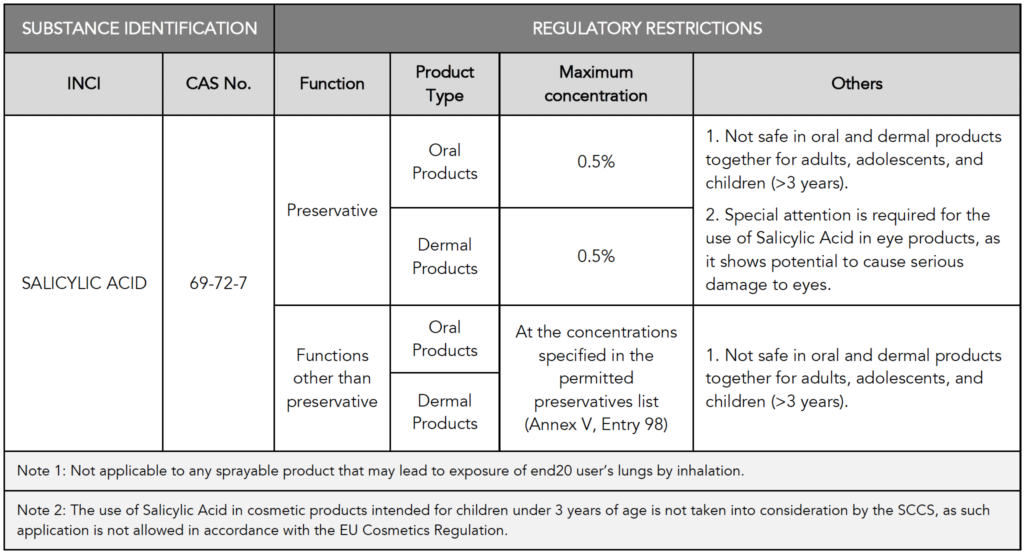 References:
1. Scientific Committee on Consumer Safety (SCCS) – Preliminary Opinion open for comments on Salicylic acid