EUDAMED
EUDAMED will provide a living picture of the lifecycle of medical devices available in the European Union (EU) market, while enhancing the overall transparency through better access to information and facilitating the coordination between EU Member States.
EUDAMED will be composed of six modules:
Actor registration;
Unique device identification (UDI)/ device registration;
Notified bodies and certificates;
Clinical investigations and performance studies;
Vigilance and Post-Market Surveillance,
Market Surveillance
In 2019, the European Commission clarified that EUDAMED will be completely functional only when all the modules are available and after confirmation of the functional specifications by an independent audit.
EUDAMED was originally scheduled to be launched in 2020, but it suffered several delays.
EUDAMED new timeline
On June 2022, the European Commission issued a new timeline planning for the EUDAMED.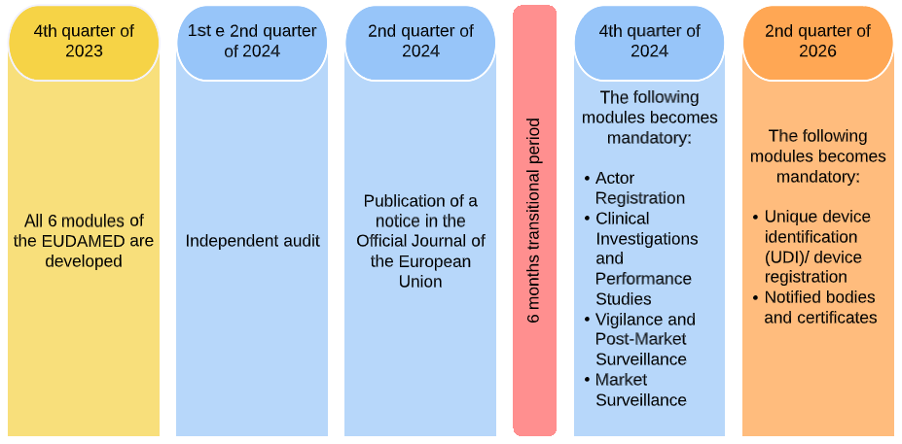 Figure 1. EUDAMED new timeline
(adapted from "EUDAMED Timeline – The European Commission planning – June 2022″)
It is expected a minimally viable version of EUDAMED to be developed until the last quarter of 2023.
The independent audit will be performed on the first two quarters of 2024.
A notice of the fully operationalization of the EUDAMED will be published in the Official Journal of the European Union in the second quarter of 2024.
After the publication of this notice, there is a transitional period of 6 months, which is expected to end by the last quarter of 2024. From that date, EUDAMED becomes mandatory as regards to obligations and requirements related to Actor Registration, Clinical Investigations and Performance Studies, Vigilance and Post-Market Surveillance and Market Surveillance.
All modules of EUDAMED will be mandatory by the second quarter of 2026.
References:
EUDAMED Timeline – The European Commission planning – June 2022.